Computer Science Teachers' Personalized Reflection on the CSTA K-12 Teacher Standards
This past summer, CSEdResearch.org had the opportunity to partner with the Computer Science Teachers Association (CSTA) and CREATE (Center for Research on Educational Equity, Assessment, and Teaching Excellence), a research center at the University of California, San Diego, to develop an assessment of teachers' understanding and use of the CSTA K-12 CS Teacher Standards. As part of this process, we wanted to understand how the Standards can help inform CS teachers' professional reflection process and their professional development trajectory. With funding from E_CSPD_Week, a U.S. Department of Education EIR grant, CSEdResearch.org joined the partnership to break down the CSTA K-12 Teacher Standards to usable rubric language for personalized reflection and feedback. This summer we piloted a reflection-based assessment for Standards 2-5, with Standard 1 being piloted next summer. After piloting our designed process in two states, Indiana and South Carolina, we learned a lot and continue to improve the process.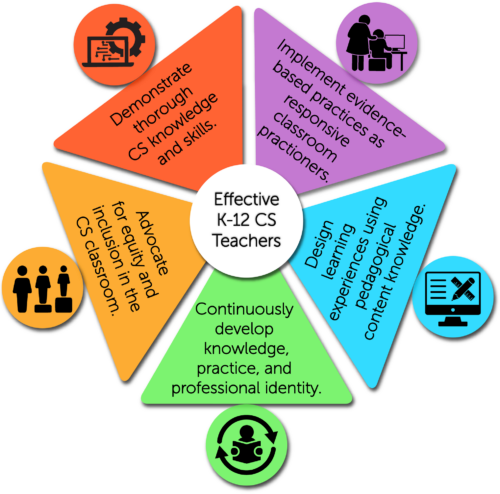 To provide a high level overview of the work that went into the process, our team, along with assistance from CSTA, dissected the CSTA K-12 Teacher Standards 2-5 to create 18 rubric items and scales across three main categories: 1) plan, 2) assessment, and 3) professional growth and development. We then created an entry form to collect the data from a group of teachers in Indiana and South Carolina who participated in the pilot of this work. We are currently undergoing the next phase, scoring and developing a process for external expert readers to provide feedback to the teachers who submit their information as part of this optional process. Our work has resulted in a set of recommendations on how to improve the process so teachers are able to more easily collect and enter their data, which we provided to CSTA and CREATE during a recent discussion. Once completed, this will be tested with a wider group of teachers in summer 2023 and go through a second revision process.
We are also in the process of starting work developing an assessment for Standard 1, CS content knowledge. Working with Dr. Adrienne Decker, we will be creating a brief assessment for AP CS A targeted to high school teachers. We will be piloting this assessment in summer 2023.