The Expanding Computing Education Pathways (ECEP) Alliance has developed a process to create reports that capture the landscape of CS education in a targeted area. These reports are individualized based on the needs and goals for states, regions, or districts and focus on the state of Computer Science (CS) within K-12 settings for that area.
In collaboration with the ECEP Alliance, we are now offering evaluation, data analysis, or guidance in producing landscape reports to meet your K-12 CS education goals.
To ensure that all of your students are considered, ECEP's landscape report model is focused on four key areas: equitable capacity for, equitable access to, equitable participation in, and equitable experiences with CS education. The CAPE (Capacity, Access, Participation, and Experience) Framework (Fletcher and Warner, 2021) focuses attention on growing a CS education ecosystem with outcomes that are sustainable and meet the needs of all learners.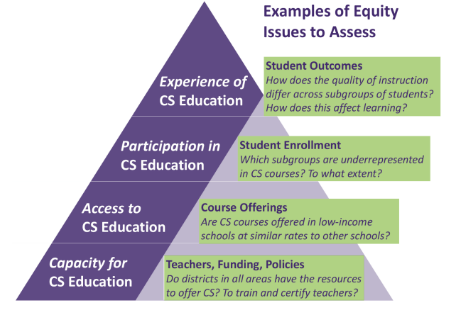 If your state is currently working on or considering a landscape report as a strategy in your state CS education efforts, the csedresaerch.org and ECEP teams are available for consultation. Using the ECEP Landscape Report model, researchers from ECEP and CSEdResearch.org will work closely with your team to analyze the strengths and barriers of the state within the CS education landscape and provide a set of recommendations that are tailored to address the barriers you may be facing in reaching your goals. Our process involves working with the state's or district's team to:
Understand the goals of the landscape report
Identify the data available and needed to meet those goals
Develop a project plan for the report with appropriate deadlines
Implement the project plan, including collecting and analyzing data as needed
Create a report that has an executive summary and a full description of the findings
Disseminate and present the report or modified versions of the report to share with others
To learn more about how we can support your needs for building the capacity for an equitable CS education program for your state or district, please contact us. The ECEP Alliance team is available for additional coaching on their other resources via this inquiry form.
References
ECEP Alliance (2022). Discover broadening participation in computing landscape report toolkit. https://ecepalliance.org/resources/toolkits-guides/landscape-report-toolkit/
Fletcher, C. L., & Warner, J. R. (2021). CAPE: A framework for assessing equity throughout the computer science education ecosystem. Communications of the ACM, 64(2), 23-25.