Are you interested in learning more about recent research in CS education and how it might be useful to your classrooms? Join the CS Education Reading Group!
The CS Education Reading Group is a weekly reading group for those who would like to learn more about ongoing research in CS education and discuss it in the context of your own experiences and unique classroom settings. Led by CSEdResearch.org volunteer, Dr. Emily Thomforde, these facilitated discussions bridge the known gap between research findings and classroom practices and provide a place for teachers to reflect on their own experience.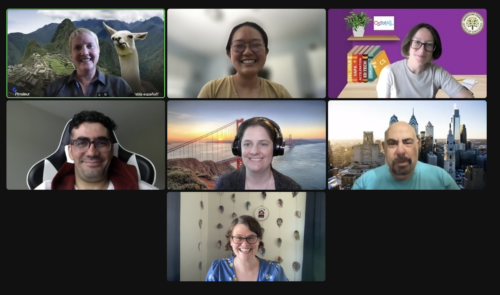 The reading group meets twice a week:
Website * Google Group * Calendar
All are welcome, including latecomers and those anywhere in the world. Reading the paper ahead of time is suggested, but not required. No commitment is necessary, just join when you can.
This Week
Week 190: June 28, 2022 A Framework for Designing Contextualized Computing Curriculum
Upcoming
Week 191: July 5, 2022 Traversing the Gaps: An Afrofuturist Approach to Social Change Through Dreaming in Science Fiction and STEM/Computer Science Education 
Week 192: July 12, 2022 Exploring Design Choices to Support Novices' Example Use During Creative Open-Ended Programming  ** Our four-year anniversary!
Week 193: July 19, 2022 Action Fractions: The Design and Pilot of an Integrated Math+CS Elementary Curriculum Based on Learning Trajectories 
Week 194: July 26, 2022 "A Key to Reducing Inequities in Like, AI, is by Reducing Inequities Everywhere First": Emerging Critical Consciousness in a Co-Constructed Secondary CS Classroom 
Week 195: August 2, 2022 Ethnocomputing with Electronic Textiles: Culturally Responsive Open Design to Broaden Participation in Computing in American Indian Youth and Communities
2022 ARCHIVE
Week
Date
Link

189

June 21, 2022
Detecting Struggling Students from Interactive Ebook Data: A Case Study Using CSAwesome

188

June 14, 2022
Two-Computer Pair Programming: Exploring a Feedback Intervention to improve Collaborative Talk in Elementary Students

187

June 7, 2022
What Makes a "Computer Science Person"? Minoritized Students' Sense of Identity in APCSP Classrooms

186

May 31, 2022
Integrating Computing through Task-Specific Programming for Disciplinary Relevance: Considerations and Examples

185

May 24, 2022
Practical programming in computing education

184

May 17, 2022
Student Experience in a Student-Centered Peer Instruction Classroom

183

May 10, 2022
The Role of Translanguaging in Computational Literacies

182

May 3, 2022
Breaking the Code: Confronting Racism in Computer Science through Community, Criticality, and Citizenship

181

Apr 26, 2022
English Language Learners in Computer Science Education: A Scoping Review

180

Apr 19, 2022

Report of the Spanish Computing Scientific Society on Computing Education in Pre-University Stages and Is computer science really disappearing from Baccalaureate? (In Spanish)

179

Apr 12, 2022

Unplugged Computing and Semantic Waves: Analysing Crazy Characters

178

Apr 5, 2022

How a computer scientist fights bias in algorithms (NPR interview + comic)

177

Mar 29, 2022

Applying the CAPE framework to measure equity and inform policy in computer science education PDF

176

Mar 22, 2022

A Tale of Two CTs (and a Revised Timeline for Computational Thinking)

175

Mar 15, 2022

Culturally Relevant CS Pedagogy- Theory and Practice

174

Mar 8, 2022

Coding in Primary Grades Boosts Children's Executive Functions

173

Mar 1, 2022

Conceptualizing AI literacy: An exploratory review

172

Feb 22, 2022

Defining and Designing Computer Science Education in a K12 Public School District

 

171

Feb 15, 2022

Teaching computer programming with PRIMM: a sociocultural perspective

 

170

Feb 8, 2022

Counter-hegemonic Computing: Toward Computer Science Education for Value Generation and Emancipation

169

Feb 1, 2022

Finding time for computer science in the elementary school day: a quasi- experimental study of a transdisciplinary problem-based learning approach

168

Jan 25, 2022

Concepts before coding: non-programming interactives to advance learning of introductory programming concepts in middle school

167

Jan 18, 2022

To What Extent Are Students With Disabilities Included in K-12 Computer Science Education?

166

Jan 11, 2022

Project MoveSMART: Integrating Physical Activity and Computer Science Learning in Elementary School Classrooms

165

Jan 4, 2022

2021 State of Computer Science Education: Accelerating Action Through Advocacy
2021 ARCHIVE
164

Dec 21, 2021

Machine learning for human learners: opportunities, issues, tensions and threats

163

Dec 14, 2021 

Code Comprehension Strategies (Blog post by Phil Bagge)

162

Dec 7, 2021

Preparing School Leaders to Advance Equity in Computer Science Education

161

Nov 30, 2021 

Physical Computing for Children: Shifting the Pendulum Back to Papertian Ideals

160

Nov 23, 2021

The Future of Problem Solving with Data and Intelligence: Increasing Artificial Intelligence and Data Science Education Across the US

159

Nov 16, 2021

We Tell These Stories to Survive: Towards Abolition in Computer Science Education

158

Nov 9, 2021

The Big Book of Computing Pedagogy (Chapter: "Challenge Misconceptions" pp102-113)

157

Nov 2, 2021 

Rethinking Perkins to Expand Access to K-12 Computer Science

156

Oct 26, 2021

Computer Science for Multilingual Students

155

Oct 19, 2021

Teaching Explicit Programming Strategies to Adolescents

154

Oct 12, 2021

K-12 Cybersecurity Learning Standards

153

Oct 5, 2021

Twenty Things to do with a Computer (Papert & Solomon 1971)

152

Sept 28, 2021

California Computer Science Education Policy: Contributing Factors to Success and Opportunities for Further Progress

151

Sept 21, 2021

Implementation and Assessment of Teamwork in Computer Science Education

150

Sept 14, 2021

Measuring actual learning versus feeling of learning in response to being actively engaged in the classroom

149

Sept 7, 2021

Hindsight 2020: Guidebook for Virtual Professional Development for Computer Science Teachers

148

Aug 31, 2021

A New Model for Weaving Responsible Computing Into Courses Across the CS Curriculum

147

Aug 24, 2021

PBS or Netflix

146

Aug 17, 2021

MAADS: Mixed-Methods Approach for the Analysis of Debugging Sequences of Beginner Programmers

145

Aug 10, 2021

The Agile Educator Guide: An Agile Framework for Modern Education

144

Aug 3, 2021

The Future of Programming

143

Jul 27, 2021

CS Policy to Practice: Understanding Emerging Approaches to State-Level Computer Science Education Policy Design in the United States

142

Jul 20, 2021

Teaching how to teach computational thinking

141

Jul 13, 2021

Empowering K-12 Students with Disabilites to Learn Computational Thinking and Computer Programming

140

Jul 6, 2021

Physical Java Memory Models (presentation notes by Colleen Lewis) and 5-minute Video

139

Jun 29, 2021

The Effect of Reading Code Aloud on Comprehension: An Empirical Study with School Students

138

Jun 22, 2021

Many Small Programs in CS1: Usage Analysis from Multiple Universities

137

Jun 15, 2021

The CS Teacher Landscape: Results from a Nationwide Teacher Survey

136

Jun 8, 2021

Block Model: an educational model of program comprehension as a tool for a scholarly approach to teaching

135

Jun 1, 2021

How Early Does the CS Gender Gap Emerge? A Study of Collaborative Problem Solving in 5th Grade Computer Science or CSK8 Podcast

134

May 25, 2021

Teacher implementation profiles for integrating computational thinking into elementary mathematics and science instruction

133

May 18, 2021

Developing an Interdisciplinary Data Science Program

132

May 11, 2021

Supporting Diverse Learners in K-8 Computational Thinking with TIPP&SEE

131

May 4, 2021

Exploring Novice Programmers' Hint Requests in an Intelligent Block-Based Coding Environment

130

Apr 27, 2021

Evolving a K-12 Curriculum for Integrating Computer Science into Mathematics

129

Apr 20, 2021

Teaching Computer Science through Problems, not Solutions

128

Apr 13, 2021

The Effects of Providing Starter Projects in Open-Ended Scratch Activities

127

Apr 6, 2021

Cultivating Interest and Competencies in Computing: Authentic Experiences and Design Factors

126

Mar 30, 2021

Development and Preliminary Validation of the Assessment of Computing for Elementary Students (ACES)

125

Mar 23, 2021

Critical Ancestral Computing: A Culturally Relevant Computer Science Education

124

Mar 16, 2021

Planning K-8 Computer Science through the UDL Framework

123

Mar 9, 2021

"You don't do your hobby as a job": Stereotypes of Computational Labor and their Implications for CS Education

122

Mar 2, 2021

Improving Middle School Students' Computer Science Knowledge and Engagement Through Creative Online Programming Projects

121

Feb 23, 2021

Comprehension of computer code relies primarily on domain-general executive brain regions Note: this article is incredibly long. Read the pop-sci summary instead: >To the brain, reading computer code is not the same as reading language

120

Feb 16, 2021

Design to Disrupt: Making Space for Every Student in CS

119

Feb 9, 2021

From Theory Bias to Theory Dialogue: Embracing Cognitive, Situated, and Critical Framings of Computational Thinking in K-12 CS Education

118

Feb 2, 2021

Infusing Cooperative Learning into AP Computer Science Principles Courses to Promote Engagement and Diversity

117

Jan 26, 2021

A theory of instruction for introductory programming skills

116

Jan 19, 2021

Design Studios for K-12 Computing Education

>115

Jan 12, 2021

Broadening participation and success in AP CS A

114

Jan 5, 2021

Relating Natural Language Aptitude to Individual Differences in Learning Programming Languages

113

Dec 15, 2020

Why Computing Belongs within the Social Sciences

112

Dec 8, 2020

Teacher Perspectives on COVID-19's Impact on K-12 Computer Science Instruction

111

Dec 1, 2020

Integrating Computing in School Subjects: A Conceptual Framework for Design and Analysis

110

Nov 24, 2020

A Multi-institutional Study of Peer Instruction in Introductory Computing

109

Nov 17, 2020

To Scratch or not to Scratch? A controlled experiment comparing plugged first and unplugged first programming lessons

108

Nov 10, 2020

Universal Design for learning CS (podcast: starts at 6 minutes)

107

Oct 27, 2020

Reducing withdrawal and failure rates in introductory programming with subgoal labeled worked examples

106

Oct 20, 2020

2020 State of Computer Science Education: Illuminating Disparities

105

Oct 13, 2020

Education in the Pandemic & the Potential for Computational Thinking

104

Oct 6, 2020

Translating Culturally Relevant Pedagogy to Computer Science (Video)

103

Sept 29, 2020

Hedy: A Gradual Language for Programming Education — Choice of paper or video.

102

Sept 22, 2020

Shriram Krishnamurthi, Teaching Computational Thinking (YouTube)

101

Sept 15, 2020

CS Equity Guide 2.0
100!

Sept 8, 2020

Exploring Student Behavior Using the TIPP+SEE Strategy

99

Sept 1, 2020

Putting students on the path to learning: The case for fully guided instruction and Mark Guzdial's take

98

Aug 25, 2020

Advanced Placement (AP) Computer Science Principles: Searching for Equity in a Two-Tiered Solution to Underrepresentation

97

Aug 18, 2020

Unfold studio: supporting critical literacies of text and code

96

Aug 11, 2020

Improving explanations and learning activities in computing using semantic waves

95

Aug 4, 2020

Measuring Computational Thinking Teaching Efficacy Beliefs of Preservice Elementary Teachers

94

July 28, 2020

The Teacher Accessibility, Equity, and Content (TEC) Rubric for Evaluating Computing Curricula
Note: above paper paywalled, read this instead: Helping teachers make equitable decisions: effects of the TEC Rubric on teachers' evaluations of a computing curriculumAnd a link straight to the TEC Rubric itself.

93

July 21, 2020

A New Pedagogy to Address the Unacknowledged Failure of American Secondary CS Education
Mark Guzdial's response

92

July 14, 2020

A Closer Look at Tracing, Explaining and Code Writing Skills in the Novice Programmer Our two-year anniversary!

91

July 7, 2020

Assessing Creativity in Computing Classrooms

90

June 30, 2020

Design Principles Behind Beauty and Joy of Computing

89

June 23, 2020

The Computer as Toolsmith II

88

June 16, 2020

How the Tech Sector Could Move in One Direction

87

June 9, 2020

When Twice as Good Isn't Enough: The Case for Cultural Competence in Computing [Washington 2020]